Back To Our Services
Cleaning the Furthest Reaches of Your Home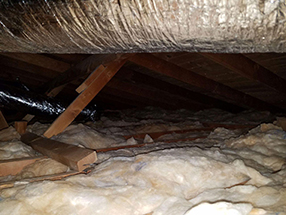 There are two spaces in every home which are the most challenging to clean: the attic and the crawl space – right? Those areas, one in the bottom of your house and one on top, are the areas you also spend the least amount of time in. Therefore, it only make sense that these two places will be the most neglected and the most hazard prone sections of your house. Say that your attic insulation has worn out over time or hasn't been properly installed in the first place - and you got yourself a risky situation right there.
We'll Clean Every Nook and Cranny!
Your attic insulation has very clear purposes. It is meant to stop air flow and control the temperature and to prevent wetness and rodents from entering into your house. When the existing layer gets worn out or if it's less than perfect, rodents, dust, and other things get into your attic, turning it into an unclean, and sometimes uninhabitable space. If that is the condition in your house, now will be a great time to call us at Air Duct Cleaning Portola Valley for cleaning and insulation services.
Have a Crawl Space?
Just like your attic needs a good cleanup, so does the crawl space need it, and perhaps even more so. In most unattended crawl spaces, we usually find uninvited intruders, such as rodents – and our team will ensure those are out of your property as soon as possible.
Professional Decontamination
We understand that it is not enough to clean the attic and the crawl space in your house, as there are some dangers that the human eye is simply incapable of detecting. Mold infection in the attic's ceiling and the crawl space, and bacteria caused by rodents are just a couple of examples for such hazards. With our professional cleaning and sanitization services, you will be able to once again trust that you and your family reside in a clean and healthy home.
Additionally, we offer comprehensive attic insulation removal and installment solutions – to ensure your house will remain safe for a longer period of time. Contact us today to learn more about how we can help!
Back To Our Services